Welcome dear readers to a new edition of Friday Friends. Maddabling has had a busy week, I sent a craft swap parcel off to Karen over at
New Earth Soaps
as part of the
DUST
Team January/February Craft Swap, got myself a new tattoo courtesy of
darklite tattoo
and have been extra kind to a sick hubby who has a bit of man flu.
This week, after the Tattoo You Tattoo Me Wednesday Wishes blogpost, I am following on with a West Australian Etsy feature artist - meet fellow sandgropers - the wonderful Cynth and amazing Adam who make up the team that is Shiny Rabbit!
I am so impressed by the old school retro inspired homewares and tattoo accessories created by Shiny Rabbit not to mention the wicked wall clocks ! Cynth and Adam - I feel these two have a great sense of humour and their vibrant creations reflect this in comic strip, tattoo and silhouette styles. Here are a few of my favourite Shiny Rabbit things !
I really really heart this TV clock, it reminds me of times before everything went flatscreen and digital

!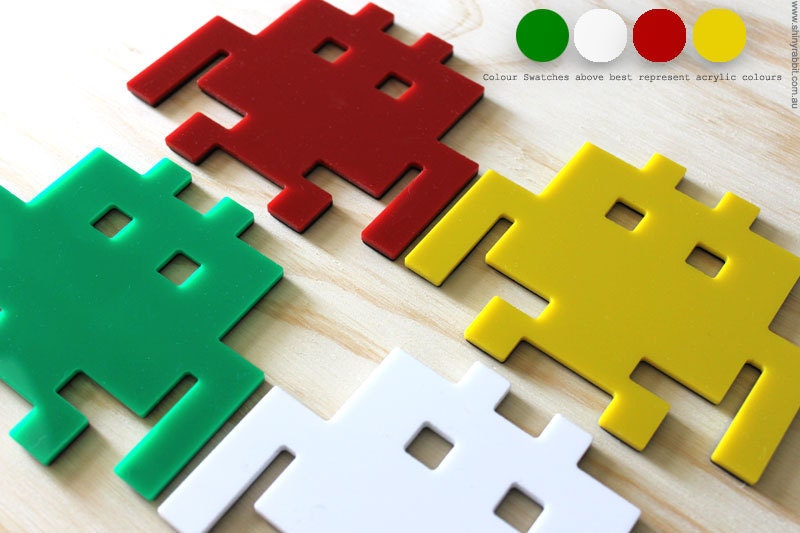 seriously, how could you go past these fab old school Invader Dudes from Outer Space Acrylic Coasters ?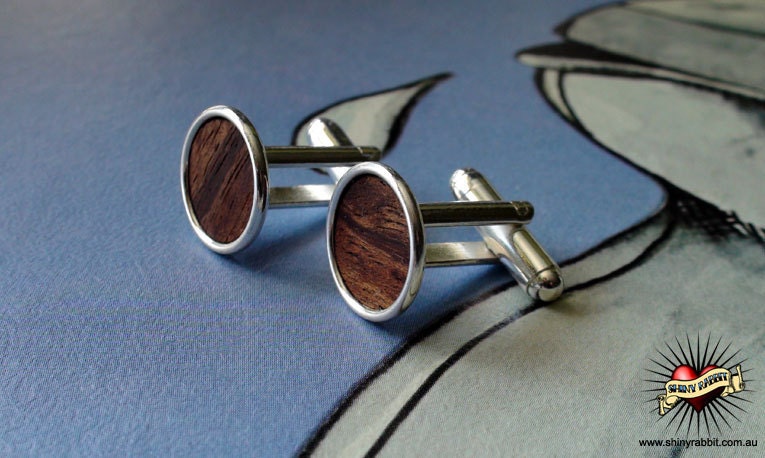 or these awesome Australian Rivergum Wood Inset Cuff Links for the discerning gent ?
Dear readers it's time to take a journey down the rabbit hole to discover all of the lovely things that Shiny Rabbit create - have a fantastic weekend, see you next week for more Wednesday Wishes !
The Pow-Bop Beat of Shiny Rabbit
Who is ShinyRabbit ?
Shiny Rabbit is a creative label that produces machine aided jewellery and homewares. We are a team of two in life and creativity, Adam & Cynthia. We like to think of ourselves as a couple who bring a little subculture to urban living and have coined the term Sub[+]Urban.
How and When did your handmade/artistic journey begin ?

Both of us have always been makers. Cynthia is an artist from a family of creatives, Adam a tinkerer and inventor of sorts who moved into engineering and construction.
We both still work in the creative Arts industry but Shiny Rabbit has really become our passion. People appreciate creative usables and wearables in different ways from art.

We get inspired by things around us, from nature to trends. We also are hugely inspired by the creative possibilities of machines and are driven to work machine aided so we can pass on the message that machines don't take away personal touch and design but rather enhance it.
Our favourite types of creative conversations almost always start with grand "what if..."'s. We have a good amount of equipment to aid our process but our laser cutter and CNC router are key - we feel they sit with us at the core of our human/machine enclave.
What mediums do you work with - do you have a favourite ?
We use a lot of acrylic and wood and we have a love for both materials. We are just starting to work with metals after a CNC router purchase and this is intensely inspiring!
We think our range is going to feature quite heavily in the near future, metals like brass, aluminium and copper.
We also are having a blast working with materials we can recycle like old records and are currently having a play with recycling some industrial/heavy duty fabrics.
What kind of things do you make/create ?
We love creating and making jewellery and homewares but we always try to bring something different to the market. We like some of the older style concepts like brooches for day coats, or coasters for martini's but want to bring them into a more modern and sympathetic setting.
Quirk is cool for us, retro gets a nod, and the strange is embraced. But we do like to give more subtle hints of these elements because we feel people don't always want to commit to huge grand statements of change – our aim is to provide people who want to make subtle interesting changes in their lives in relation to style.
Do you have a favourite piece that you have made/created ?
We have a couple of big favourites, our Rock N Roll necklace which is an homage to sailor style tattoos, and our record clocks. The flavour of the month for us is always changing though.
All of the things we create, we love with a passion. Our coasters are a big staple for us and we are currently phasing out our old materials and replacing them with new and even more exciting ones! Everything we make is a complete blast for us so they all have places in our hearts.
What are your future plans/dreams/aspirations ?
We definitely want to expand our stockists. That's the biggest goal for us this year. We also want to enter into a new market where our CNC router plays a big part in designer objects... Stay tuned !
Want to see more Shiny Rabbit goodness readers ? Here is where you can find Shiny Rabbit online !
You can buy wonderful things at ShinyRabbit's online stores :